The market this week is focused on the ECB Press Conference on Thursday and NFP on Friday. Trade cautiously as it could get very volatile. We have begun the final quarter for 2014 and clear trends are evident. It is always safer to trade with the trend than against it.
The NZD has been trading sideways this week, but its trend is down and every pallid rally creates an opportunity to go short. The USD continues to strengthen – so it's better to trade accordingly.
The NZD strengthened in the first part of the session, but as it hit our upside Targets 1&2 … sellers entered as we would expect. After the second wicky candle, we enter short with a stop loss just above Target 1 anticipating a move to the Asian low. Price drops vertically and we move our profit stop down approximately half way. Price moves up a bit then creates a higher low with a bullish wicky candle. The following candle is very bullish and as price closes on its high – we exit near the session end.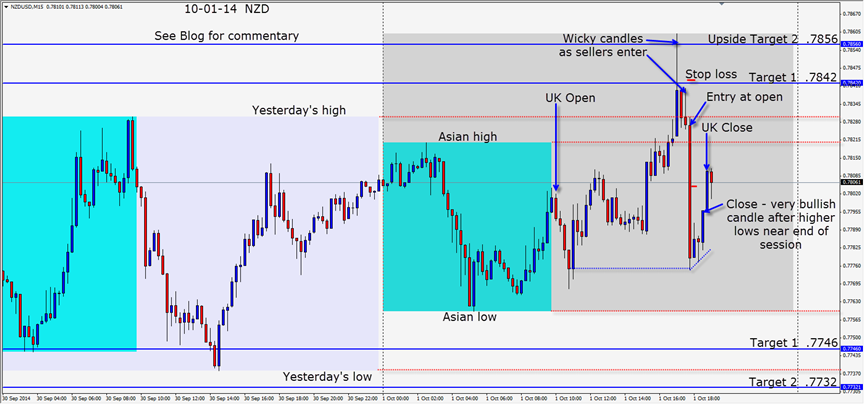 If Draghi's comments tomorrow are interpreted as dovish, watch the EUR's reaction. On Friday, the market is expecting stronger employment numbers in the US and if they disappoint – things will get interesting… but we will remain on the sidelines as is our habit on Non-Farm Employment days.
Be very careful trading this week.
Back tomorrow if we find a trade.