The EUR chart continues to set up for shorts. Be cognizant of the October 10,13 and 15 lows where it has moved upward as it approached the 1.2600 figure. If this level cannot hold the 1.2500 figure awaits a test. Be very careful position trading around these levels as you may give back some nice gains.
In advance of the US session today, the EUR made a lower high for the session and a short entry is taken just above the 1.2700 figure. As price moved down, we move our intial stop loss to plus one pip in advance of the US CPI numbers. Price moves down after the release and continues down one more candle…looking very bearish. It then began to retrace upward for 2 candles – where we choose to exit before giving back any more of our profits.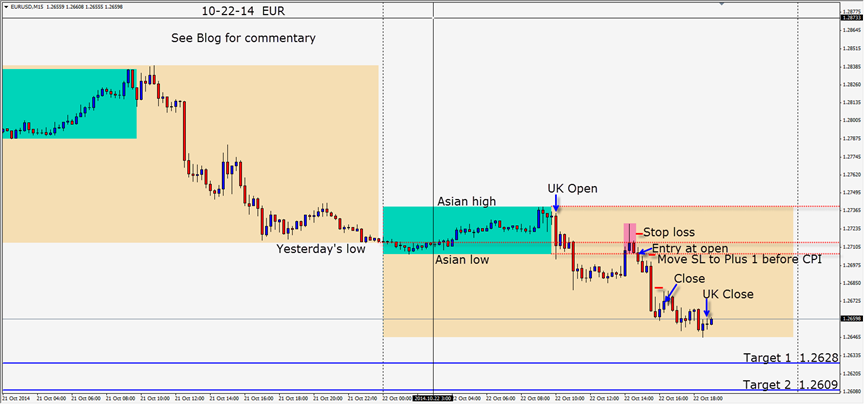 Overall we continue to have USD strength and EUR weakness from an economic fundamental perspective. There is both French and German news tomorrow… if negative the we may see the 1.2600 and or the 1.2500 levels tested. The US Unemployment number tomorrow will also certainly be watched by traders.
The GBPCHF is a very active pair and has been a good one to trade. (not shown) The SNB's Zurbruegg has warned of unlimited intervention and more actions regarding the EURCHF. This pair currently is barely moving each day, so I much prefer the active GBPCHF. Keep an eye on the EURCHF 1.2000 big figure for fireworks.
Good luck with your trading!
Back tomorrow if we find a trade.