EUR weakens on quiet news day. As the UK session got underway, what is sometimes known as "tweezer tops" formed after the first hour of trading. Essentially it is a reversal formation and we can see looking at the chart that there are no buyers above the Asian session highs.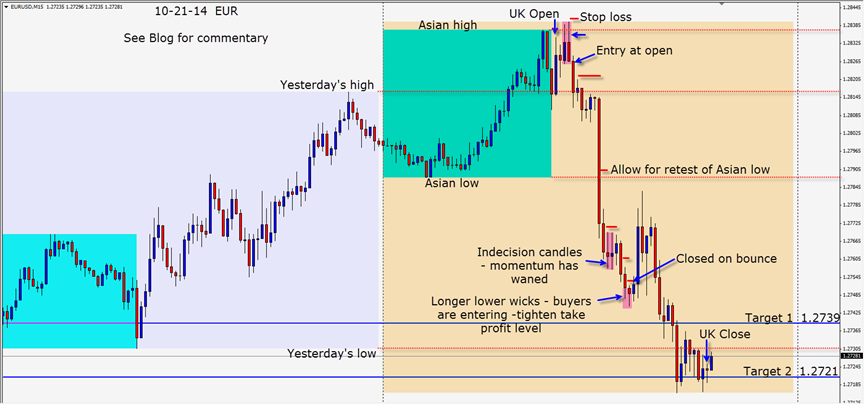 A short is taken with a 15 pip stop loss above the session highs which equates to a 7:1 Reward to Risk to our Target 2, and there is no major economic news in the calendar for the session.
If you look at the Daily chart for the month of October the range is very clear and our bias remains to the downside. The swing created this month allows for institutional shorts to enter at levels approaching 1.2850 and play the range down to the swing low areas… while taking profits or adding to their positions along the way based on their current market expectations. Getting below the 1.2600 figure may require some patience but the charts will reveal the bias.
Price moved almost vertically down once it got going which is not sustainable. Price cut right through the Asian low, where we would expect it to retest the level. We move our "take profit" down to just a few pips above the Asian low. Price continued downward but gave signs of stalling. We continue to move our "take profit" down and as the longer lower wicks form – indicating buying interest – we tighten our "take profit" and the market takes us out.
As price began to retrace upward it stopped and reversed exactly where the hourly institutional traders defend their positions and back down it went to our Target 2…where statistically it will run out of downside energy.
Good luck with your trading and stay disciplined.
Back tomorrow if we find a trade.