A fairly quiet session for the EUR today despite lots on the economic news calendar.
As the UK session got underway the EUR attempted to break the Asian low but found buyers keeping price above the 1.2600 figure…for now. As price moved up, the 1.2670 area became a mini resistance level. As price tried to push through this level and is unable to close above – a short entry sets up with a stop above the spike high. Our targets (not shown) are 1.2577 and 1.2560 for the session. This gives us a better than 6:1 R/R with a stop loss of 15 pips.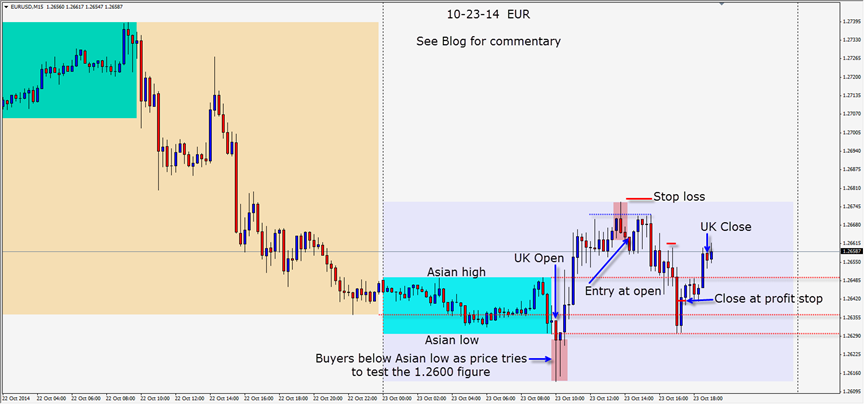 First things first…we must have price start closing below the Asian session high and then continue to close below yesterday's low and the Asian session low. We also have US Unemployment claims pending.
Price begins to move down then reverses and retests the 1.2670 level again, but does not close above it… which gives us confidence that the level will hold. The US news pushes price down and we begin to test the Asian session highs, but cannot close below. Price finally breaks through and stops at the Asian session low. We are not willing to give back more than half the previous candle's pips. Price reverses off the Asian low and takes us out for a modest gain.
We continue to look to fade the rallies in this pair anticipating the October lows to be targeted in the near future. As mentioned yesterday, the 1.2600 figure will find buyers so protecting profits is paramount.
Good luck with your trading!
Back tomorrow if we find a trade.