The major focus this week for the EUR will be the ECB Press Conference tomorrow and the Non-Farm Employment number on Friday – so be very careful trading in the meantime.
Our bias remains short and when the setup is there, we will gladly take it and ride it out with tight stops as was the case today.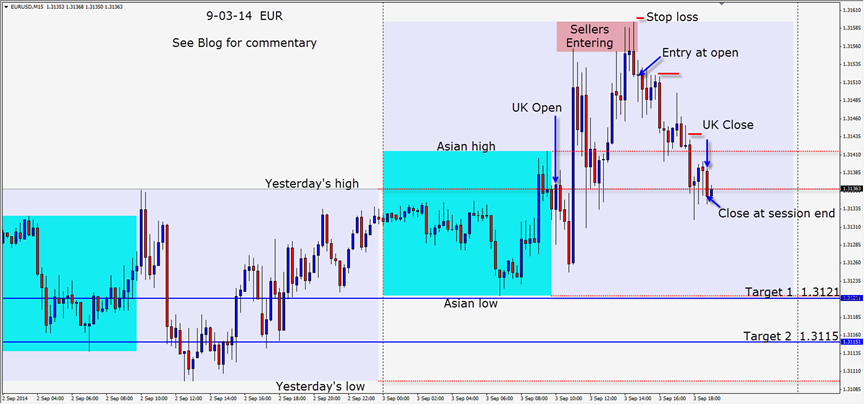 As price showed sellers above and with no major US economic news, a short is taken after price once again could not stay above 1.3155. With an 8 pips stop loss this was a greater than 4:1 Reward for the Risk to our Target 2. Price had difficulty penetrating the Asian highs and retested this level before moving down to test yesterday's high… as the session ended, we close the position near this level.
The EURGBP is a cross that will allow traders to take advantage of the current EUR weakness and GBP strength. The GBP currently is susceptible to some market weakness due to the Scotland referendum vote but it's worth keeping an eye on this pair now that it has become more active.
The institutional core EUR shorts may be adding to their positions on retracements near the 1.3200 – 1.3220 area. This area is not where I would want to be long the EUR with a deep stop. If you look at the August 22 low and the August 28 high – you will see why this is an important level. Hint – trade with the BIG institutions not against them. The 1.3100 level and 1.3000 level to the downside will be important for the EUR in the short term.
We do not trade on Non-Farm Employment Fridays. If we don't find a trade tomorrow, we will be back next Tuesday.
Good luck with your trading!
Any questions email Michael@privateforexcoaching.com