The NZD has been trending downward since July and has been an easier pair to trade than the ranging AUD. The chart is clearer and the trend is down. Both pairs typically move in the same direction crossed against the USD on a session basis.
The NZD has the potential to fall considerably further as the USD bullish trend continues. Tomorrow's RBNZ Monetary Policy Statement will be closely observed by traders.
In the late US session yesterday, we can see the US traders selling the pair after a brief retracement higher. The Asian traders did not reverse the London or New York move and the pair moved down another 30 pips before making another lower high as the UK traders began their session. The pair was unable to close above its Asian highs as the US session got underway. A short is taken with a stop just above the session spike high.with a greater than 4:1 Reward for Risk to our Target 2.
As price moves lower we protect our gains by moving our profit stop down, and when price bounced off our Target 1 we close the trade to protect our profits.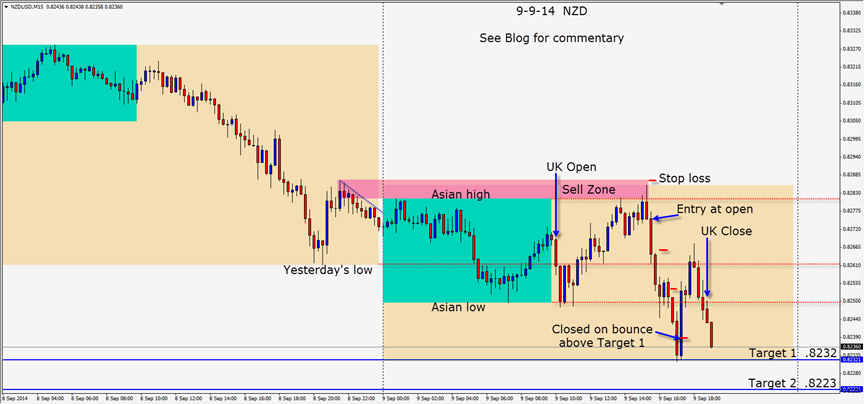 The EUR which has been our favourite short lately ran into some profit taking today. It continues to have significant downside potential in the short term and we will be looking to re-enter short.
The USD continues to strengthen, so our preference is to trade accordingly – with the Trend.
The GBP is suffering as the polls continue to predict a growing Scotland Independence outcome,with the next poll being on Friday.
Good luck with your trading!
Back tomorrow if we find a trade..
Questions please email Michael@privateforexcoaching.com