This is a very similar trade to yesterday. The EURUSD is active with large institutional short positions and this is also true in the crosses.
If you can learn what is important to the very large institutional traders and trade with them not against them, your trading will improve and your consistency and confidence will go up considerably!
If the market bias is short the EUR and long the USD, than I want to go short the EUR and long the CHF. These pairs move inversely and it's more a matter of taking the better setup.
We see a number of wicky candles as price tries to stay above the Asian session highs…which means sellers are entering. There is a major US economic news release pending in the US session and we have already discussed the institutional bias. This also means that if the institutional position traders are short, then they will add to their positions on small rally retracements. In today's case that would mean if the 1.3200 figure is challenged…it will most likely run into sellers both just above and just below. Options too will be active here.
The news although positive for the US economy saw the EUR rise a bit in post reaction. As this blip fades, price creates another lower high for the session and closes below the Asian session high… in the direction of the bias, a short entry is taken. With a Reward for Risk of greater than 2:1 ( at this time of day I will take a 2:1 because there is little time left in the UK session) to our Target 2, a short is taken and we will attempt to get through both the Asian session low and yesterday's low – which is a bit of a double barrier. Price moves down and retests this area before descending to our Target 1 and closing below it. With less than 30 minutes left in the session, we are closed protecting our profit at Target 1.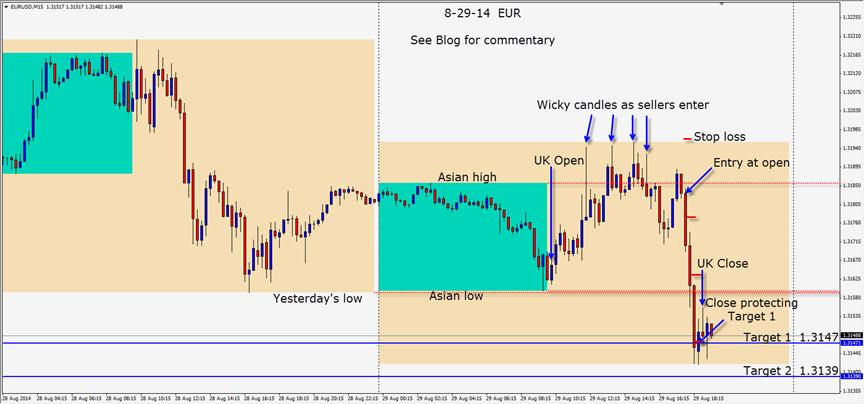 It's a holiday in North America on Monday.
Good luck with your trading and enjoy your weekend!
Questions Michael@privateforexcoaching.com