The EUR continued trending downward during the UK session tagging 2 of our target areas (one is shown on the chart below – a much stronger target is not shown due to it being proprietary for my students).
The move occurred and it frequently does during the sweet spot of the session – where session trends tend to begin. If you are interested in knowing this time – email me and I will be happy to let you know when to look for it. This is pretty well known among European and UK institutional traders.
The session started with a false move higher and the Asian session highs not being challenged. After price hovered near the day's high for an hour, it finally dropped, taking out the range and closing bearishly. We enter short with a stop loss just above the Asian high giving us a 3:1 Reward for our Risk to our Target 2. Price begins to descend and as it goes through the Asian low we move our profit stop just above the Asian session low to allow for a retest without being closed. Price continues to drop to our Target … then begins to rise. As this is a double target area for us, we promptly close the trade as the momentum changes.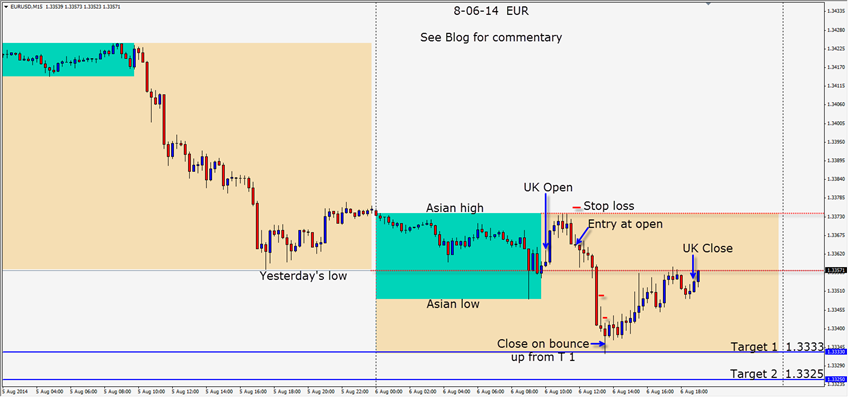 Be very careful trading the EUR tomorrow in advance of ECB Draghi speaking. The GBP may offer a nice entry after the UK economic news releases but these are very late, and also on Thursday the US Unemployment Claims is reported 30 minutes into the US session.
Good luck with your trading!
Back tomorrow if we find a trade.