I like this setup whenever I see it. The UK traders pushed price below the Asian session lows… luring in breakout sellers. They immediately bring price back up, reverse it and lure breakout shorts a second time followed by another pullback. In this case, it looks like an "M" formation with the second pullback making a lower high. As price moves lower, we enter short with a stop loss above the lower high of the session and hope price will fall to our Target 2.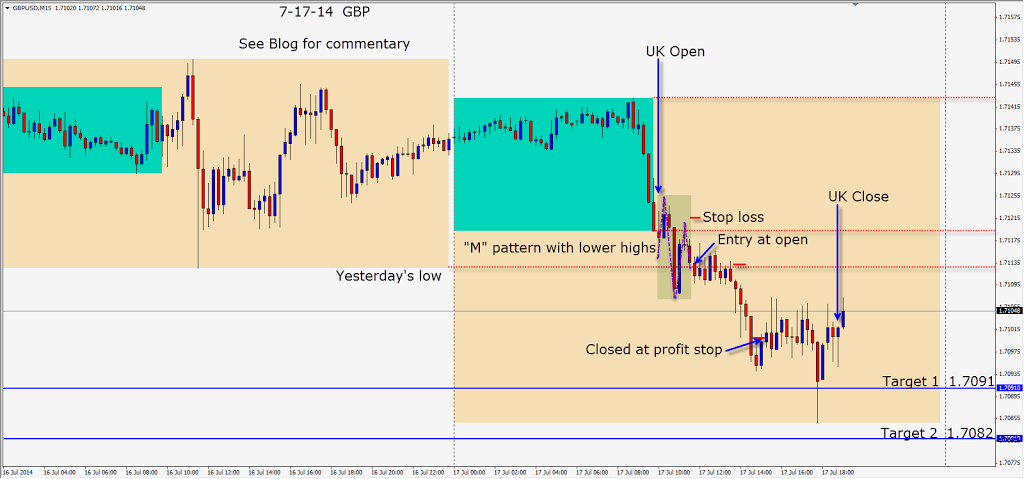 It sure looked good at the time! Price fell but not nearly as low as we had anticipated. As the US traders begin their session, price climbs a bit hitting our profit stop and we are taken out for a modest gain. As there was US news pending, we remained out and hope for a larger gain tomorrow to conclude the week.
The US Federal Reserve continues to be dovish despite the improving economy and employment numbers. The market continues to await a more hawkish tone and has not heard it yet.
Geopolitical events are a wildcard and could effect the market abruptly. Keep stops tight and be patient.
Good luck with your trading!
Back tomorrow if we find a trade.