The GBP continues moving downward after failing last week to take out the 1.72 figure. In advance of the retail sales number the GBP pokes above the Asian high but closes back within the Asian session range. The reaction to the number creates an intial sell off…driving price to close well below the Asian session low.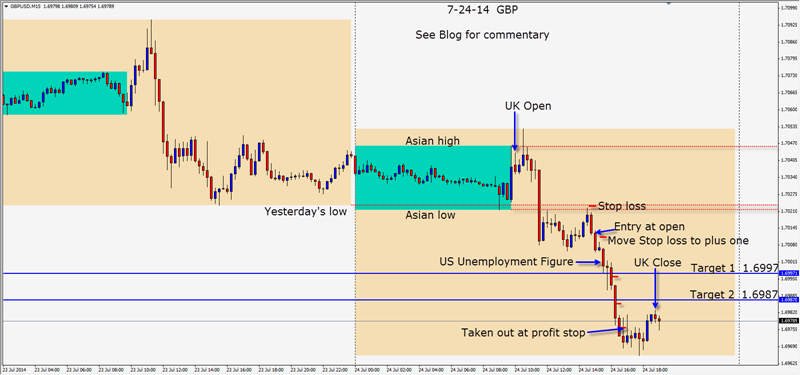 After the news reaction we anticipate a retest of the Asian session and or yesterday's lows. We get exactly that. After the Asian low is rejected we await a clear reversal and find an entry at the US Open. With a stop just above structure, we have a better than 2:1 R/R to our Target 2.
We enter short and but in advance of the US unemployment number, we move our stop loss to plus one pip. Price subsequently accommodates us closing below our Targets 1 & 2 enabling us to lock in those profits as we continue to move our profit stop down. Price ultimately takes us out in advance of the second round of US news.
Patience pays off in trading as this set up was straightforward. Yesterday the charts didn't allow me any entries. As traders we only get paid for being right. We don't get paid for showing up and being enthusiastic.
Good luck with your trading!
Back tomorrow if we find a trade.