We continue to look for any short setups on the EUR for intraday trading. The 1.3500 level gave way last week and today we approached the 1.3400 during the UK session.
Sellers stepped in as the pair attempted to climb above the Asian session highs. As the pair tried one more futile attempt to rise, it met further selling and a short setup was found. After the 3rd lower high for the session, we enter short and try to get below the Asian lows allowing for a retest of this level. We have a greater than 3:1 Reward to Risk ratio to our Target 2. ( Target 2 is lower Blue line – the first Blue line is our Target 1 – forgot to mark it clearly on the chart today.)
Once we place our profit stop just above the Asian lows, we are stress-free and if the stop is hit we still make a bit of money. Price does not come high enough to retest the Asian lows but moves down toward our Target 2…where we exit with the touch downward at the Frankfurt close.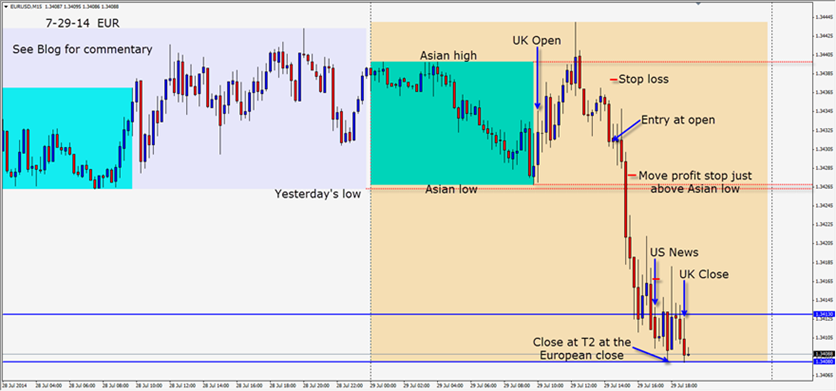 Good luck with your trading!
Back tomorrow if we find a trade.