The EUR is giving mixed signals at the moment. A very powerful trading pattern emerged during the "sweet spot" of the UK session. After the breakout traders went short, we await a couple of pullbacks. After the second one, we enter short allowing for an 8 pip stop loss. The lower highs are very easy to spot and the reversal allows us a 3:1 Reward to Risk to our Target 2.
Trading is demanding of patience and it was not until after the US news that the pair began to plummet. As price drops and closes below our Target 2, we find it begin to bounce on the next candle and we allow a bit of wiggle room – then close the trade to protect our profit.
The market is much more likely to reverse near our Target 2 level than it is to continue in the same direction. The targets not only enable us to determine our R:R ratio, but also help us protect and lock in profits – as we know statistically that the day's range has been met and only in very rare instances is price likely to continue much further.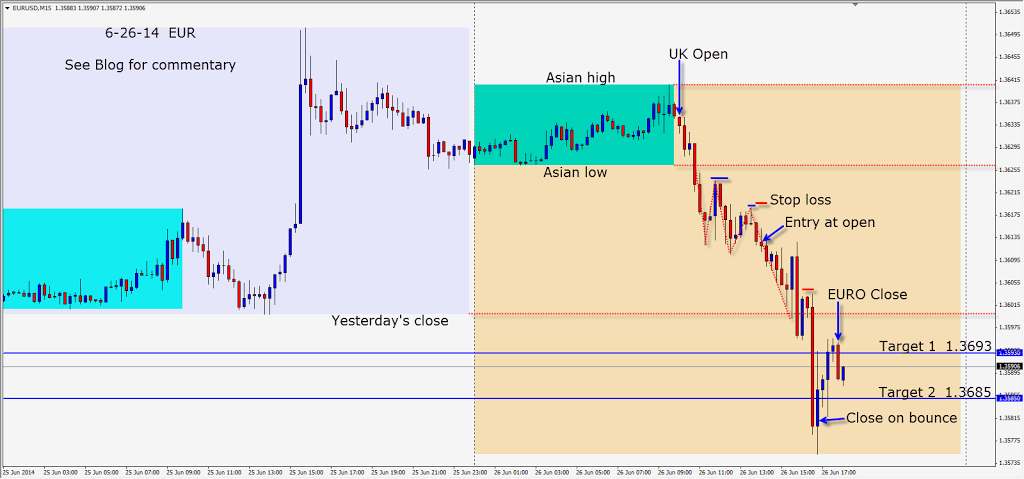 Good luck with your trading!
We will be back tomorrow if we find a trade and if not it will be next Wednesday… as we be enjoying a long weekend. Trading will have less volume next week during the US session as Canada has a national holiday on Tuesday with many taking Monday off too. The US has a national holiday on Friday and many will want to add additional time due to it being summer.