The majors are showing some life again. There were nice setups in the EUR (see below) NZD and JPY during the UK session.
After a quick move up in the first hour of the European session, the London traders began to push the EUR back down. An entry short is found – giving us a 3:1 Reward for our Risk with a 13 pip stop loss above structure. After 3 attempts higher, it is clear that sellers are entering orders above both the Asian session high and yesterday's high. After 2 candles into the trade, we see a candle with a wicky bottom which is also a double bottom. We move our emergency stop loss down to plus 2 pips…making it a profit stop. At this stage we are stress-free and if a reversal occurs…there is no harm to our account. Our first pause is expected to be at the 1.3700 figure area. Price will test this area, then will most likely test the Asian low. Price continues down and tags our Target 1 level. It then moves to our Target 2 and begins to bounce. We don't want to give back profits at this level once reached, so we close the trade just above it – on the bounce… locking in some quick gains.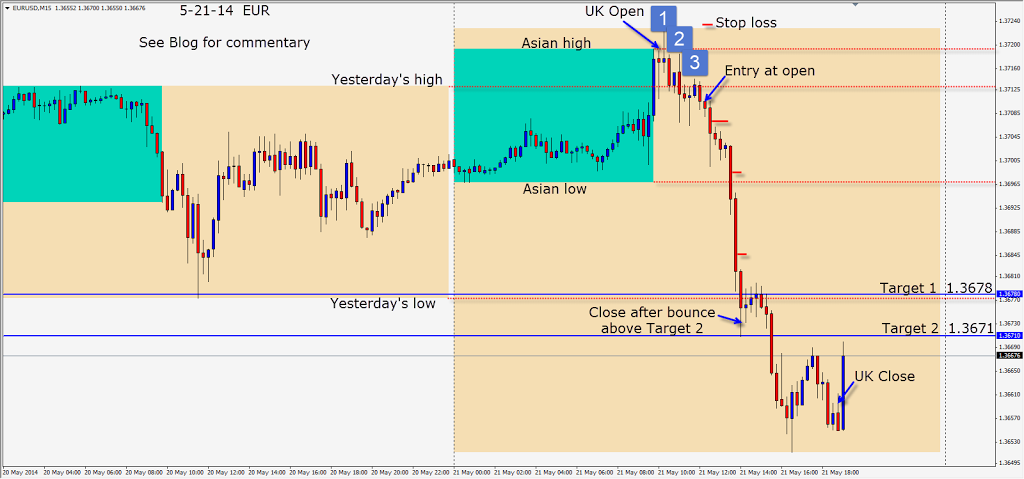 Good luck with your trading!
Back tomorrow if we find a trade.