Finally a day of activity! The GBP set up was my favourite trade and moved further than expected. After a couple of weeks of compressed trading ranges, we finally got some action today to end the week. When trading ranges are very tight, we need to be careful not to get lured into dismal trades that go in our favour a by a few pips and then against us by a few pips. It's been like watching paint dry the past couple of weeks.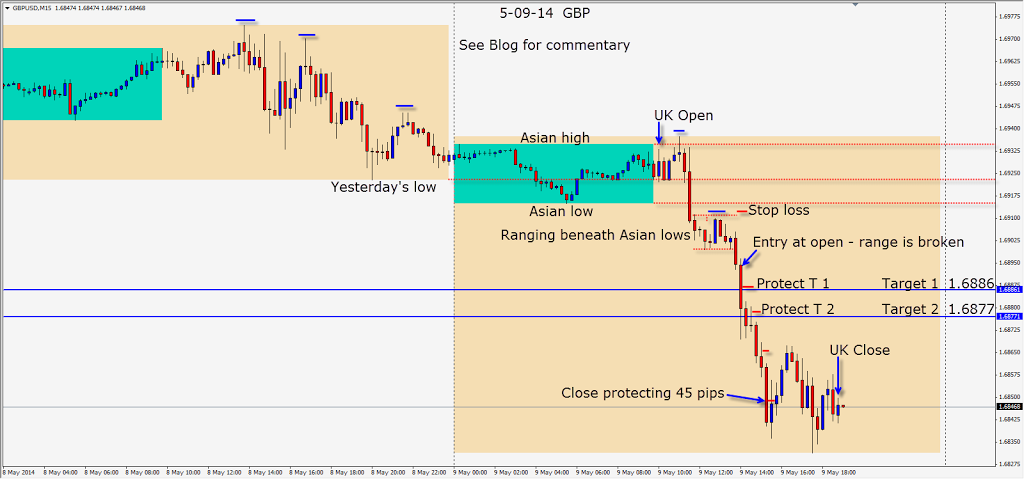 We had a big hint this week that the direction for the EUR and GBP would be down. This is evidenced by what happened at the options barrier of 1.40 for the EUR and 1.70 for the GBP. In other words, the BIG traders would not let it through and sold hard! The Daily chart is screaming this message. This is not a random reversal.
Looking closer at the GBP on an hourly chart, my students will see price moved down in the UK session and closed below 2 important tools that we use that aligned close to the 1.6900 figure. Knowing many institutional traders are seeing the same message, we go short on the break near 1.6894. I'm not keen of the R:R in this case, but the confluence is too powerful to resist. A stop loss of 16 pips above structure seems expensive to get to Target 2 which is only 19 pips away. Our stop loss is a hard stop in the event of extreme volatility in this case. If the market goes against this trade, I can always click out and take a 6 or 7 pip hit, but I need a hard stop loss in the event that something unforeseen occurs and the trade moves against me violently. If this ever happens to a trader just using a psychological stop…that is a stop loss in their head not in their platform…they typically find themselves to be like a deer in the headlights, as price erodes their account while they stare in disbelief and are unable to react. Trust me…I've been there years ago and it cost me dearly, and you never want to go there a second time!
Price today moves down stalling at our targets as we anticipate. This allows us to protect these levels so the market takes us out if price reverses… but we have locked in profits at strategic and statistically significant levels…and let the market do what it will do. As price continues to move in our favour, we tighten our profit stop down and end up being taken out for a nice gain after giving back 13 pips from the session low. All in all, a nice way to end the week. Other trades set up after this one closed but this was the trade that made the week fun.
Good luck with your trading! Enjoy your weekend!
Back Tuesday if we find a trade.