A nice short setup in the EUR occurred after the rejection of the Oct. 3, 2013 swing high.
With little news during the UK session to move the market, it was sensitive to Thursday's US Employment and Core CPI numbers. Vertical moves are not sustainable, so the clear rejection of the October 3rd high meant that there was some large money selling at this level. Swimming with the current is easier than against it.
Wicky candles tend to precede reversals and the very next candle was bearish enough for me. Placing a stop above the rejection candle high afforded a better than 4:1 Reward to Risk to our Target 2. There was pending news with the Philly Fed Manufacturing Index, but with a 16 pip stop loss above structure, the trade was affordable. Interesting to note that even with a positive Philly number, the sellers entered again at exactly the same level – the Oct. 3rd swing high rejection.
This pattern is one of my favourites and it was too good to resist. The pattern completed in advance of Bernanke's speech and the trade is closed.
If the USD strength continues, there is institutional money looking to short the EUR below the 1.3560 area. We will wait to see what price does at this level as it will be interesting to observe. If the level can't hold there is potential for a large downside move.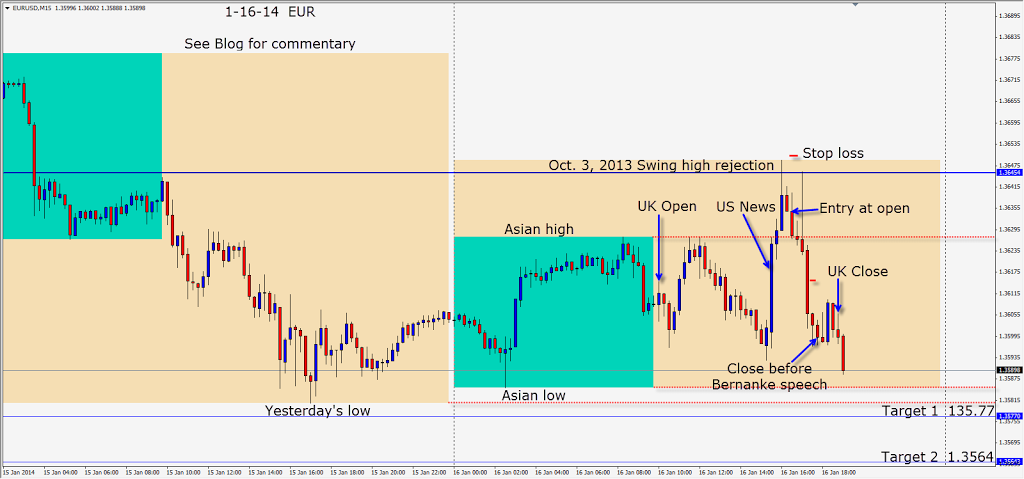 The Aussie also presents further opportunities to sell rallies when the setups are there.
Good luck with your trading!
Back tomorrow if can find a trade.