We're back from holiday. The AUD looked like a nice short but the Reward to Risk was only 2:1 to our Target 2 not 3:1. If we are going to risk a dollar in a trade, we are seeking a three dollar reward minimum and only after the US session is underway are we willing to take a 2:1 R/R.
It's great to be enthusiastic about trading, but it is not prudent to be enthusiastic to trade…always be disciplined.
As long as Governor Stevens wants a lower Aussie dollar, we're happy to find rallies to short. In this case, everything looked nice with a series of lower highs, a break below the Asian session lows and a double-top just below the Asian low retest. The deal breaker was that the stop loss would be just above the Asian session low costing us 15 pips and our Target 2 was 30 pips away. Although professional trading is not gambling, I'm reminded of the old Kenny Rogers song "The Gambler". In it he sings…"you got to know when to hold them, know when to fold them, know when to walk away and know when to run…"
We walked away from this otherwise attractive setup.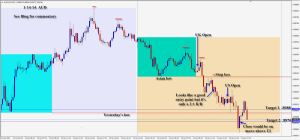 On the fundamental side, Lockhart's comments yesterday suggest that he thinks the December NFP was an anomaly.
Good luck with your trading! Volumes are still down in most majors.
Back tomorrow is we find a trade…