The European Central Bank decision to lower the interest rate to .25% created a sudden move in the currency markets, but not all the pairs moved at once. The EUR and CHF were gone in a blink and as I was taught years ago – it's never a good idea to chase price.
After the US news releases a beautiful and somewhat textbook short… set up in the JPY. Once price had over-extended itself, the idea is to look for signs of the momentum shift, indicating the reversal is beginning. As my mentor taught me, "vertical moves are not sustainable". Never chase the move, catch the reversal which will often occur with a similar size move.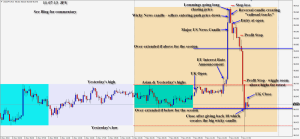 Good luck with your trading!
Back Tuesday if we find a trade. We don't trade NFP Fridays.