It's a short week for us as we don't trade NFP Employment days. The exceptional Tuesday NFP Employment release created lots of volatility yesterday and a very large range.
Today we saw the EUR begin to move convincingly up after the US session got underway. There was no US economic news of consequence, so an entry is taken. A 19 pip stop loss for a potential 77 pip gain is hard to resist. As price reached the Asian session high which corresponded with yesterday's high, it ran into sellers. It would not be unusual for it to retest this level before breaking through it normally, but with a very bearish wicky candle creating a triple top, we close the trade.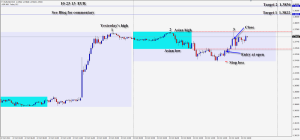 Good luck with your trading!
Back tomorrow if we can find a trade.