A tricky week so far as we approach month end. With Europe and the UK having moved to Daylight Savings time this past weekend and North America not changing the clocks until this coming weekend, trading times are an hour off.
Setups have been difficult to find so far this week – and not very rewarding.
Since Australia's Gov. Stephens spoke earlier this week, the AUD has come into focus as a short opportunity for position traders – in trader talk…this means sell the rallies.
The AUD moved up during the Asian session and looked like it was reversing during the UK session. A short entry is found and a tight profit stop is implemented in advance of the US major economic news releases. The news caused price to jerk upward and the trade is closed out for a tiny gain.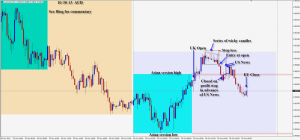 The FOMC statement is due out shortly and although the Fed is not likely to do anything, its statement of the assessment of the economy is always very important to traders.
Let's hope for better trading opportunities on Thursday and Friday.
Good luck with your trading!
Back tomorrow if we find a trade.