This is one of my favourite patterns but unfortunately it has not been as productive the last couple of months. It is very useful for the AUD and NZD pairs. The gist of the trade is to look for a large Asian session move followed by reversal signs when the UK traders begin their day.
Looking at the JPY, we see it had a fairly large move during the Asian session with some wicky candles at the lows indicating where buyers were stepping in. The UK traders create a higher low followed by another higher low. Once the EUR news was released with Germany showing a weaker than expected Ifo Business Climate number, the USD caught a bid. The JPY started to move up convincingly as the reversal got underway. As the US session got underway, we were promptly closed at our protective stop.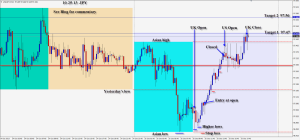 Tip: Always be aware of session change-overs. With session change-overs the new traders check their order book for activity during the previous sessions. They can see who has been active, as in, pension funds, corporations, banks, retail traders, and what the options market is showing etc. This is favourite time for stops to be run which is evidenced in the volatility and reversal moves. What the traders cannot see are the hedge fund and other whales' orders which they refer to as dark pools. Our trading style takes advantage of this.
Good luck with your trading and enjoy your weekend!
Back Tuesday if can find a trade.