The JPY set up nicely after the US Unemployment figure was released. The JPY has been making a series of lower highs and double-topped early in the UK session. It traded in a fairly tight range awaiting the US news. Once the news was out of the way, it set up nicely allowing us a 2:1 Reward to Risk entry to our Target 2. Price re-tested the Asian session lows once before dropping to Target 2 where we exit the trade.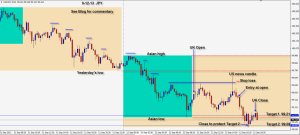 There were other nice trade setups too… so I hope everyone had a profitable and productive session.
Good luck with your trading!
Back tomorrow if we find a trade.