The JPY had a very active Asian session and began to pull back hard in the UK session. After it bounced at the previous day's Asian session low (Hint) an entry is found. The stop loss was 14 pips and the idea was to get to the Asian session high for a retest. As price moves up, we remove any risk from the trade and protect some profits. This is critical to your trading success and peace of mind as a trader. When price bounced off our Target 2, we close the trade to lock in our gains. Price subsequently tests the Asian session high without us.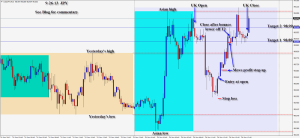 The AUD set up nicely 15 minutes after the JPY entry, for a nice short to its Asian session low. Once the JPY started to move up, a theme of USD strength was apparent and the majors moved accordingly with the exception of the CHF which unusually had a very quiet session.
In trading the 15 minute chart, stops of 15 – 25 pips are my norm at current ranges. Any trade setup requiring a stop loss of less than 15 pips is very desirable. When trading ranges expand again, a stop loss of 30 pips is possible, but I haven't had one that large for some time. When price starts moving in your favour, remember to protect some profit in the event of a sudden reversal. Never fight the market – you will lose. Study it! Go with it – never against it. If it moves against your analysis, your stop loss is your friend.
Good luck with your trading!
Back tomorrow if we find a trade.