The JPY is a pair that I haven't traded in a long time. It's a major pair and traders will find that it moves well in most sessions. A European bank trader has been sharing with me a model used for trading the JPY. It appears to work very well, so I'm back looking for setups in the JPY once again.
After a series of lower highs a short is taken, with a 17 pip stop loss above structure. Price moves down and bounces off the Asian session low and makes a third lower high for the session. Price drops almost to our Target 1 and begins to retrace. After giving up 10 pips on this bounce, we close the trade.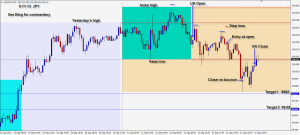 If you're a student of mine and you want to know how many European banks are trading this pair, contact me and I will give you the details. All our usual rules apply, but there is a trick.
Good luck with your trading!
Back tomorrow if we find a trade.