A fairly light news session to begin our trading week. The JPY moved down after an initial surge higher as the UK traders trapped breakout longs and stopped them out. After a bearish reversal candle, and lower high, a short entry is taken. The stop loss is 13 pips for a possible 74 pips to our Target 2. This a great Reward to Risk ratio and stops of 15 pips or less are very attractive to us.
Price moved down but stopped short of the Asian session low and the trade is closed after the wicky candle reversal. Price pulled back one more time making a third lower high for the session, then dropped once again without us.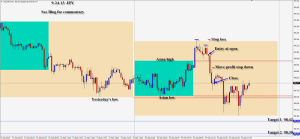 Good luck with your trading!
Back tomorrow if we find a trade.