After the FOMC announcement, the AUD moved up and today it moved back down. It's good to be aware of the fundamentals, but it's more important to be able to read price, and exercise sound money management. This involves limiting risk with small stop losses and ideally a Reward to Risk ratio of 2:1 or better – depending on the time of day.
Looking at this particular setup, it was clear that you did not want to be a buyer above the Asian session highs. There were only sellers above, and after 3 attempts to move higher, price dropped. With such a large reactive move after the FOMC announcement, I thought the move down would penetrate the pre-FOMC Asian session before stagnating.
It was not long ago that the AUD was worth 1.06 to the USD and even 1.08. It has a pretty good trading range at the moment, so I will be keeping my eyes on it.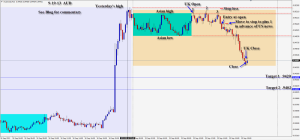 Good luck with your trading!
Back tomorrow if we can find a trade.