The trading in advance of the long awaited September FOMC meeting has had currencies in very tight trading ranges. The FOMC market buzz is for the tapering of the total monthly purchases of USTs and MBSs to be rduced from $85B down to $75B a month, and remaining dovish on interest rates. Traders are also talking about the possibility that the FED may adjust the threshold rate for unemployment lower.
I was not expecting any trades to set up, but the AUD looked attractive. The idea was to take it short and try to reach the Asian session low. It was unlikely that the ranges would be anything but muted. It was a painfully slow boring session and by removing the risk… and more or less waiting to see what would happen, a very small gain is ultimately realized.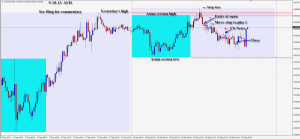 The pairs are likely to be active after the FOMC announcement. Let's look for some opportunities after London re-opens.
Good luck with your trading!