The AUD continues down retracing the post FOMC reaction.
Once again as the UK session gets underway, there are no buyers above the Asian session high. Price begins to move down and penetrates the Asian session low. We wait for a retracement and find an entry with a Reward to Risk of greater than 3:1 to our Target 2. There is no significant US economic news that we need to be concerned about. Price makes its way down to our Target 1, where it bounces and we close the trade.
Grain farmers in the US years ago are attributed with discovering what is known as the 3 Drives Pattern. This is a frequently reoccurring pattern where we see 3 waves, either to the high or low on a chart. The idea for trading it is to catch the second wave which is often the largest of the 3 drives. It can be visible on all time frames and is fun to recognize and trade. It is by no means crystal clear and does not always work, but it can be fun to spot.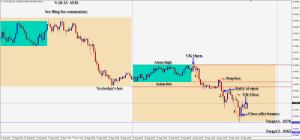 Whatever your trading style may be… find your edge, keep it simple, manage risk and be consistent.
Good luck with your trading and enjoy your weekend!
Back on Tuesday if we can find a trade.