Both the AUD and NZD were fairly active during the Asian session. My preference when this happens is to look for the momentum to reverse and find an entry. The AUD had difficulty staying above the Asian session high…meaning sellers were entering above. After the second close above, a reversal sets up with a bearish candle which closes below the range of the previous 2 hours. Price moves down where it consolidates just below yesterday's high. Our profit stop is moved down to just above this level. Major US economic news is pending and we await the market's reaction. The worst case scenario is we are stopped out for a profitable trade. Price drops after the news and we close the trade on the next candle as price moves up to our Target 1.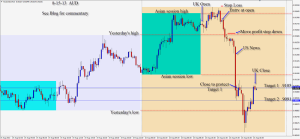 I like the AUD and NZD pairs. We can usually find a trade setup that we like most weeks.
Good luck with your trading!
Back tomorrow if we can find a trade.