Very large moves yesterday followed by more subdued moves today. The NZD set up after the US session got underway. The NZD just made our 2:1 Reward to Risk ratio minimum to our Target 2. We like a 3:1 R/R during the UK session, but with a maximum of 4 hours of trading time left in our trading day, once the US session is underway – we will take 2:1 R/R minimum.
Once the US Trade Balance economic news was released, the NZD began to move down and an entry is found on the next candle. Although the trade did not progress to our Target 2, we are able to protect our gains to Target 1 and exit the trade for a modest profit to begin our trading week.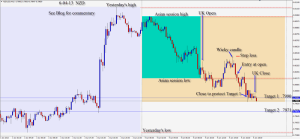 This will be a short trading week for us, as we do not trade NFP Fridays.
Good luck with your trades!
Back tomorrow if we find a trade.