The EUR moved up nicely once the US session got underway. This trade set up with a better than 4:1 Reward to Risk ratio to our Target 2. At this time of day, we will take a 2:1 R/R… so this trade setup was very appealing.
After the first candle, it didn't look nearly as good. Fortunately by the third candle after entry, it was up and away, closing bullishly into the Asian session. After price tested and retested the Asian session highs, it found a little more strength which fizzled with a wicky candle closing near the swing high from earlier in the session. We exit the trade as price penetrates the earlier swing high.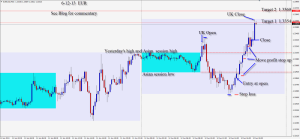 There were other nice trade setups this session (not shown) – the week has been very productive and we are only mid week.
Good luck with your trading!