Lots of volatility following lots of economic news and overall the news has been positive. Following the US economic news, buyers entered the EUR creating an opportunity for a long trade. Price quickly moved up stalling near yesterday's high. The profit stop is moved just under the Asian session high, which is not subsequently tested. Wicky candles appear at the session high, and the take profit level is adjusted upward. Price pushes through our Target 1 level easily then pulls back, so we close the trade. The subsequent candle goes right to our Target 2…without us.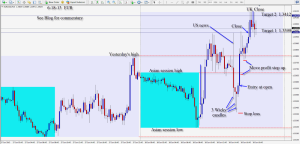 FOMC statement tomorrow during the US session.
Good luck with your trading!
Back tomorrow if we find a trade.