The CHF was fairly subdued before the US ADP Non-Farm Employment number was released. As it did not take out the Asian session high and made a series of lower highs, an entry short is found. Unfortunately, the market went sideways for a couple of hours and all we could do was remove the risk from the trade by placing the stop loss at plus 1 pip.
The news release created a sudden drop through both yesterday's low and the Asian session low, before buyers entered the market and price reversed. We exit promptly.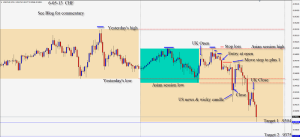 Always be careful trading around major economic news releases. Employment figures for the US tend to create lots of volatility in both directions. In trading, as in Newtonian physics, this is known as Action Reaction.
Good luck with your trading!
Back tomorrow if we find a trade.