The CHF set up beautifully and with very light news until the US session, a trade is taken short meeting our Reward to Risk ratio minimum of 3:1 to our Target 2. Very little price movement occurs. Price moved back down into the Asian session range and more or less retested the Asian level high without going above it. We lock in a few pips in advance of the US traders. With very little price movement, the US traders are less inclined to reverse the market, but we never know, so we protect some profit.
The major US economic releases work in our favour and price moves down near the .9600 figure. We had a confluence of reasons to exit just above this area, so on the first sign of a pullback, we exited happily protecting profit at Target 1.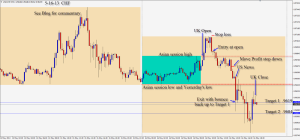 I was under the weather yesterday, so it was nice to find a trade today.
Be very careful around the UK and US session openings and always be aware of pending major economic news releases. Exercise prudent money management and if a trade setup is not clear to you – find one that is. Don't trade for the sake of trading. My mentor always said, "master your tools and master yourself".
Good luck with your trading!
Back tomorrow, if we can find a trade.