I love seeing a large move in the Asian session. This very often sets up one of my favourite patterns to trade. The CHF bounced off its Asian session low and moved up convincingly. An entry is taken long with a stop loss just below the Asian session low. This meets our minimum criteria of 3:1 Reward to Risk to our Target 2, that we strive for in the UK session. If we cannot find a trade until the US session has begun, then we are willing to accept a minimum of 2:1 R/R because we only trade up to the first 4 hours of the US session.
Price climbs to the Asian session high – tests and retests this level before moving up to our Target 1, where we closed out for a nice run to start our trading week. News was very light but must always be accounted for when trading. The major economic news releases can catapult the market in either direction.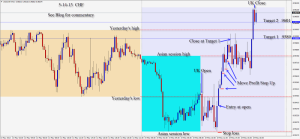 Be crystal clear that the currency markets are manipulated by some extremely large institutional traders. If you can recognize their behaviour and follow behind them, it makes trading a lot easier. If you can't recognize their behaviour, you may be getting stopped out a lot. How do I know this? I was taught by one of them! If you want to learn more contact me.
Good luck with your trading!
Back tomorrow…