After an exceptionally large sell off in the GBP yesterday, we found an buying opportunity after the economic news release for the UK.
Once price closed above the Asian session high following a couple of pullbacks on tests, we enter long with a stop just below yesterday's low. Although a stop below the news candle spike would have been safer, it was too expensive a stop for us.
Price began to move up and we protected ourselves in advance of the first US economic release. We end up closing the trade to protect 30 pips of profit.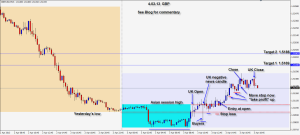 As we do not trade NFP Fridays, we hope to capture a nice move tonight if the market cooperates.
Good luck with your trading!
Back tomorrow.