Very light economic news session creates fairly lackluster trading. The EUR had been moving up for 5 straight days and finally broke above the 1.3100 level only to sold off at 1.3120. As price formed a lower high, rejecting yesterday's high, we go short at the figure with a stop just above the session high. Price found buyers below the Asian session low, and we close the trade at this level in advance of the FOMC minutes – for modest gains.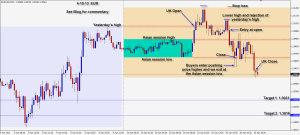 Tomorrow is a very light economic news session too, with employment numbers being reported for Australia during the Asian session, and the same for the US early in its session.
Hopefully we will find a trade.
Good luck with your trading!