A beautiful session to trade! In North America we have moved to Daylight Savings Time which means the UK session starts one hour later for us, until the end of the month, when the UK and Europe switch over too.
Last week, all the news releases throughout the trading sessions, made for a very difficult and volatile trading week. This was capped off with NFP on Friday – a day we do not trade.
There were many nice setups during the UK session today however, but the EUR had a favourite setup of mine. This trade set up with breakout traders being lured in short twice, allowed for a 3:1 Reward to Risk ratio setup to our Target 2. When price began to fade just below Target 1, we closed to protect our profits. A familiar 1,2,3 rollover setup gave us a short entry as the US traders reversed the overnight up trend. Price came down completing a familiar formation that I teach.
I love intraday trading! One typically gets a move in the UK session which is very often reversed when the US traders come to work. For those that successfully trade the UK move, why would you want to give it back and not lock in your profits? We use small stop losses and have defined targets. We read price, trade familiar high probability setups, and exit when price indicates to us that a move may be reversing. I learned trading from the largest currency trader in the world, a man with over 42 years of trading experience, whose peers consider to be the best trader out there, and he taught us how being able to read price is paramount to trading success! Regardless of your preferred trading intervals, or preference for price bars or candles, you must learn how to interpret from price what the market is telling you.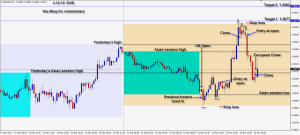 Let's hope for a continued awesome week.
Good luck with your trades!