Fabulous trading day! The EUR was a textbook trade for us. Breakout traders were lured in long and it didn't take long before the EUR plummeted, then gapped through our Target 2.
It's unusual to see a gap in the forex market during the week. We see them after a weekend, when trading resumes, but during the week, it's rare. This gap was filled in on the same candle, which also is rare.
Overall this was a gift of a day! A number of pairs offered up nice setups and exceptional profits. A day like this makes up for all the frustrating tedious days when the setups we look for aren't there or where there isn't much profit to be had. Patience and discipline are key to trading success.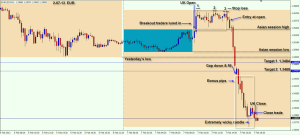 Let's see what tomorrow brings to end the week.
Good luck with your trading!