EURGBP trade to begin our trading week. I teach my students to keep an eye on this pair when the EUR is moving one direction and the GBP the other direction. Two advantages to trading this pair include; it tends to move at a slower and steadier pace than the either the EUR or GBP and it is crossed with the GBP, so currently each pip is worth 1.54 times what a USD crossed pair is worth.
The EUR began to move up during the UK session with the GBP moving downward. After a wicky candle bottom the EURGBP began to rise and close back above its Asian session low. It tested and re-tested the Asian session high before rising through our Targets 1 and 2. With a small stop and a greater that 3:1 Reward to Risk ratio, this trade started our week very positively. As the UK session ended, it was still looking like it had a bit of momentum to the upside, so we held on a few minutes longer than usual to close it out. This was an excellent way to begin the week.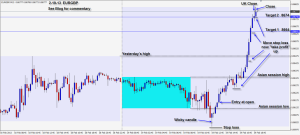 There was also a very nice setup on the GBP (not shown) so all in all, a very profitable session.
Let's see what the rest of the week brings us.
Good luck with your trading!