A volatile week of trading and very messy charts. To my eyes the EURGBP looked best. This pair has been very active the past couple of weeks and tends to move in a more orderly manner than most pairs. It set up very nicely during the UK session, rejecting a close above the Asian session high, followed by a very bearish candle. A short trade with an affordable stop meeting our minimum 3:1 Reward to Risk ratio to our Target 2 followed.
The market has been very volatile this week and with Dr. Bernanke testifying yesterday and today, there is room for considerably more volatility. After a bounce off the Asian session low, the trade is closed before round one of the major US Economic news releases. Better to play it safe today or not play at all.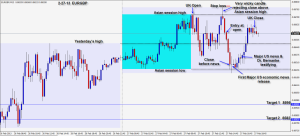 Be very careful trading volatile looking charts. It is always better to avoid the difficult looking trades and choose the easier looking setups or not to trade at all. Be very selective and keep your stops tight.
Good luck with your trading!
Back tomorrow.