The AUD set up nicely fairly early in the trading session, allowing for a short with a very small stop loss. Fortunately is was not volatile after the UK news which certainly affected the GBP, EUR, CHF and EURGBP pairs.
I like this setup and really love it when the Asian session has had a extended range. With a very tight stop, I was hoping that price would move down to at least the Asian session low, as it was making no signs of moving up to test the Asian session high. Alas the trade fizzled out at yesterday's high and that was it.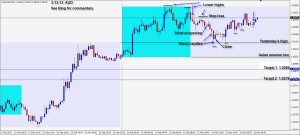 Modest gains are always better than modest losses. After the UK news some trade setups were very evident, but I don't like large stop losses, so I walk away from those types of setups. There is nothing easy about forex trading and some days are humbling. Let's see what tomorrow brings.
Good luck with your trading!