The GBP set up for a nice short overnight giving us a Reward to Risk ratio of 4:1 to our Target 2. It slowly drifted down toward the Asian session low. It then dropped significantly in advance of the US Employment numbers, after the US traders entered the market. When this happens, protect your profits before the candle even closes, by adjusting your "take profit" in advance of the news release.
The reaction to the news could easily reverse the market along with your profits and stop you out in a blink. Choose an acceptable number of pips for your "take profit" level and lock them in. The news created very little pullback at first and the GBP passed through our Target 1 level – where we closed the trade when it began to pull back.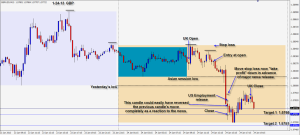 .
Good luck with your trades and remember the World Economic Forum meetings continue in beautiful Davos Switzerland. Be very careful with your stop loss placement.
Back tomorrow,
Questions – Michael@privateforexcoaching.com