A familiar pattern set up in the GBP overnight. After a series of lower highs during the Asian session, the UK traders pushed price down luring in breakout sellers. Price retraces and rises, and does not take out the most recent Asian session lower swing high. Price reverses and begins to head lower.
Our Reward to Risk is greater than 3:1 to our Target 2 and we enter short. The pattern of the of the reversal is a familiar one for my students and can lead to a symmetrical vertical move to the downside. Price continues down tagging our Target 1, and one candle later price breaks through our Target 2 level. We close on the next candle.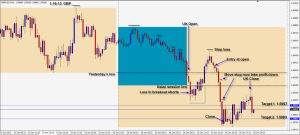 Excellent week so far.
Know your setups, know your targets, know your Reward to Risk ratio and practice sound money management
Good luck with your trading!
Questions Michael@privateforexcoaching.com