With no significant news releases out of Europe or the UK, we await a familiar setup. The EUR begins the UK session rising but falls short of the Asian session high, puts in a double top, followed by a bearish candle to the downside. We enter short with a stop above the Asian session high. This setup just meets our minimum Reward to Risk of 3:1 to our Target 2. Price begins downward and just over an hour into our trade, price reverses, creating a triple top, before being pushed down hard. We make it through Target 1 but fall short of Target 2. As price begins to rise toward Target 1, we close the trade for modest gains.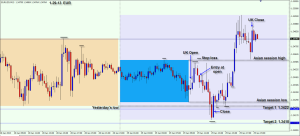 As we do not trade on Non-Farm Payroll Fridays, we hope to catch some bigger moves in the next couple of days.
Good luck with your trading!
Questions – Michael@privateforexcoaching.com