The EUR continues to move higher this week and is up substantially after two down days at the beginning of 2013. After testing the Asian session lows, it began a slow ascent to test the Asian session and yesterday's highs. With little significant news out of Europe or the UK and Non-Farm Employment Change numbers due out tomorrow, the EUR topped out near yesterday's high for modest gains.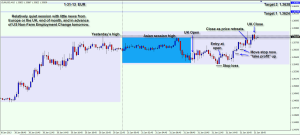 January was a month where levels from last year were tested and re-tested. Let's see what February brings.
Be very careful if you trade near the Non-Farm Employment Change release tomorrow. We do not trade on that day of the month.
Back Tuesday.
Good luck with your trading!