After a very slow week and a short one for us, because we never trade NFP Friday, we found a wonderful trade in the EUR. It's been a frustrating couple of weeks as the pairs have not been moving as much as usual and nice setups have been delivering much less than we are used to. However the trading week ends with a very encouraging trade. I don't usually show critical areas on these charts, but my students will recognize its significance.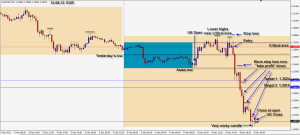 We will not be trading tomorrow… back Tuesday.
Good luck in your trading and have a wonderful weekend!