EUR looked good and had an excellent Reward to Risk ratio setup of almost 6:1 overnight. These are extremely attractive trade setups and hard to resist – if everything else adds up.
The Asian session high and yesterday's high were at the same level. When the UK traders broke this level and then pulled price back, a familiar entry setup presented itself. Price had been stair stepping higher and the trade required a very small stop of approximately 10 pips for a potential 59 pips of reward. This trade was very easy to manage and offered 25 pips of reward.
Volumes seem to be tapering off a bit. Is this due to the holiday season approaching – which will naturally slow down trading, or is it due to the FOMC statement mid US session? Who knows?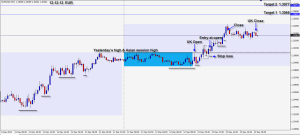 Assuming that volumes will continue to taper off as we get into the holiday season, it is best to keep stops tight and continue to manage trades prudently, as always. When volumes lighten, price tends to get erratic and chart patterns appear less clear.
Be careful trading in such an environment and be very selective with your setups.
Good luck as always!