The AUD continues to look clearest to me of the majors. After putting in a series of lower highs an entry is taken with a modest stop loss just above structure. This trade had a Reward to Risk ratio of 4:1 to our Target 2 – meeting our criterion of 3:1 minimum. The trade was a little slow to get going as price continued to retest the Asian session low despite already having closed below it. This is not unusual. Price then moves down and just as the trade appears to have legs to the downside, it retraces more than halfway up the large preceding bearish candle, taking us out of the trade for a very modest gain.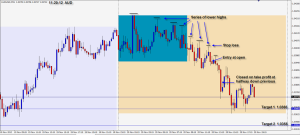 There is lots of EUR news this week and Euro meetings. Thursday will be a holiday in the U.S. and Japan.
Let's hope for a better session tomorrow.
Questions Michael@privateforexcoaching.com