The GBP is once again showing signs of life. The EUR got away from us overnight, but the GBP looked good once the "wash and rinse" was completed. This trade was acceptable as it met our 3:1 reward to risk minimum criterion.
A surprisingly bad economic news release out of the UK did nothing to dampen the rise of the currency. After our entry, price rose to our Target 1 level and pulled back forming another higher swing low. As price struggled to rise and close above our Target 1, we closed the trade to lock in Target 1 profits. I teach my students not to give back profits once Target 1 is obtained. By leaving the stop loss now "take profit" just below structure, we would be giving back pips, so it is safer to lock in the profits and return another day. As it turned out, price moved up strongly just an hour later beyond our Target 2 – in one candle.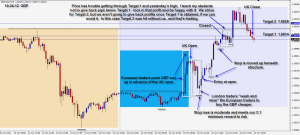 The week continues…
Be methodical with your trading and never chase trades!
Back tomorrow.