The CHF looked better to me last night than the EUR. There was no significant economic news for us to wait through. A very inexpensive stop coupled with a greater than a 5:1 reward to risk makes this trade very attractive. Moving our stop down to just above the lower swing highs keep us in profit and our Target 1 and 2 are hit on the same candle.
The concerns for this trade were getting through the Asian session low and having price swing up and take us out at our stop…the classic wash and rinse that breakout traders will suffer 80% of the time. The second concern was getting through yesterday's low. Once price got through yesterday's low, we were quickly rewarded.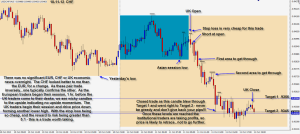 I'm out of town tomorrow…back here Tuesday.
Good luck with your trades tonight!